Mashu Baker gives Japan an insight in his talent
1 Dec 2013 14:20
by Mark Pickering - IJF
IJF Media Team / International Judo Federation
Japanese super talent Mashu Baker upset 2012 Tokyo Grand Slam winner Lee Kyu-Won (KOR) to win -90kg gold in front of a capacity crowd. Baker and Lee both received a shido for going out of the area after 40 seconds before the South Korean was penalised with a shido for a false attack. After Baker received a shido for passivity to restore parity, Lee turned out of a ouchi-gari attempt at the halfway point only for the Japanese tyro to throw him from the floor with a uchi-mata for a yuko score.
Baker who appears to have a huge outlook booked his place in the gold medal contest by stunning top seed and World Championships silver medallist Varlam Liparteliani in their semi-final. The Japanese newcomer scored a yuko from an uchi-mata after two minutes and added a waza-ari at the halfway mark from an ouchi-gari. There was no way back for World Team Championships gold medallist Liparteliani who led after 15 seconds with a waza-ari score. In the second semi-final Lee blocked the passage of two-time World Championships runner-up Nishiyama Daiki (JPN) who had hoped to set up an all-Japanese final. Lee went in front from a waza-ari and Nishiyama was penalised with a shido for a false attack. Both judoka earned shido penalties for passivity before the Japanese fighter scored a waza-ari from a driving ouchi-gari which forcefully floored Lee. Shido penalties were the difference after five minutes as Nishiyama had accumulated two which was one more than his rival.
The first bronze medal was won by Nishiyama who subdued Qingdao Grand Prix bronze medallist Aaron Hildebrand (GER) with two ko-soto-gari sweeps. The second bronze medal was captured by Liparteliani who let out this frustration from his semi-final defeat by dominating Asian Championships winner Shimowada Shohei (JPN). Shimowada, who won bronze at the 2012 Tokyo Grand Slam, was thrown for a waza-ari after 20 seconds and Liparteliani maintained the same pressure until he threw the Japanese fighter with a hane-goshi for ippon after just one minute of explosive action.
like
Related judoka and events
Related judo videos
All videos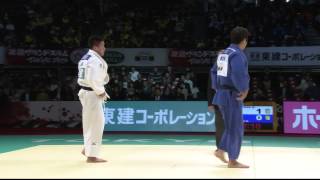 30 Nov 2013
Mashu BAKER (JPN) - Kyu-Won LEE (KOR) @ U90 - Grand Slam Tokyo 2013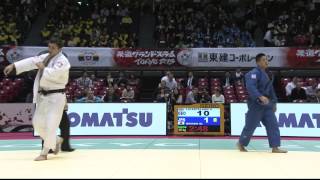 30 Nov 2013
Varlam LIPARTELIANI (GEO) - Mashu BAKER (JPN) @ U90 - Grand Slam Tokyo 2013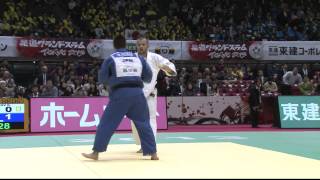 29 Nov 2013
Kirill VOPROSOV (RUS) - Mashu BAKER (JPN) @ Grand Slam Tokyo 2013
All videos
Adam Maj
Poland
All JudoInside profiles of…
Judo results, photos, videos from…
More judo info than you can analyse 24/7! Share your results with your judo network. Become an insider!