Belgian Olympic judo medallist Dirk Van Tichelt retires
30 Oct 2020 20:25
JudoInside.com / judo news, results and photos
Dirk Van Tichelt has announced his retirement. "A neck injury has literally nailed me", says the 36-year-old ex-judoka, who reached his peak 4 years ago when he took bronze at the Olympic Games in Rio de Janeiro. I's time to enjoy champaign and French fries for the Belgian veteran.
Van Tichelt: "There was no escape possible. I know from my experience that a top athlete must be able to train consistently to get everything out of his body", said Dirk Van Tichelt in Bruges, the home base of his sponsor.
"The corona pandemic made it extra difficult to fully train in a contact sport such as judo. And a few weeks ago I also injured my neck. It literally killed my career."
"Not only on the tatami, but also in everyday life. It was very difficult for me not to be able to romp with my children."
"At that moment a seed was planted in my head and it quickly grew into a tree," continued the 36-year-old top athlete. "There was no way out."
He has not yet said whether Dirk Van Tichelt will accompany European and vice world champion Matthias Casse.
"What future will bring is still a mystery," said the ex-judoka, "but I have several options. Unfortunately, retiring is not one of them."
Current World Number one Matthias Casse reacted on the retirement of " the old man, the grandpa of the team, the one and only Bronze Bear is retiring from our sport."
Thank you for the great memories we made all over the world, they will last forever.
Thank you for kicking my ass and push me to go harder.
Thank you for believing in me and setting high standards.
Thank you for teaching me important values on and off the tatami.
Thank you for being a good friend and trainings partner.
"It's time for you to rest, physically and mentally. There is a whole different life waiting for you and your family. Enjoy it! I am grateful for what you've done for judo In Belgium and I am proud of what you have achieved. You've done amazing things, but now it's my time to do better! I am sure we'll see you around, however you will be missed."
Van Tichelt has been at the top in his category U73 kg for many years, culminating in Olympic bronze in 2016. In 2008 he was crowned European champion, at the World Championships he finished with bronze twice in 2009 and in 2013.
Van Tichelt competed this year at the Grand Prix in Tel Aviv, Grand Slam in Paris and Düsseldorf
Read also about Dirks cruciate ligament
like
Related judoka and events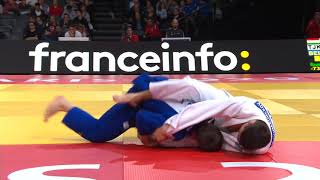 8 Feb 2020
Somon MAKHMADBEKOV (TJK) - Dirk VAN TICHELT (BEL) @ U73 - Grand Slam Paris 2020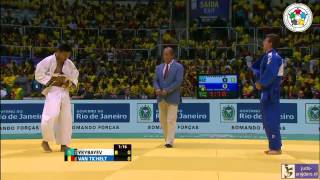 Dastan YKYBAYEV (KAZ) - Dirk VAN TICHELT (BEL) @ U73 Bronze - World Championships Rio de Janeiro 2013
All videos
Dauren Nuralinov
Kazakhstan
All JudoInside profiles of…
Judo results, photos, videos from…
More judo info than you can analyse 24/7! Share your results with your judo network. Become an insider!