Clarisse Agbegnenou quadruple World Championships queen
28 Aug 2019 16:45
Mark Pickering - IJF
IJF Gabriela Sabau / International Judo Federation
Clarisse Agbegnenou won her fourth title to enter the record books as France's first woman to win four world judo titles. Agbegnenou won an epic rematch of the 2018 final as her arch-rival and three-time world medallist Tashiro Miku (JPN) gave the defending champion one of the toughest fights of her illustrious career. In Tokyo the Budokan applauded laudly for the two women for the display of such balanced masterpiece.
Tashiro, who trailed their head-to-head series 1-9 coming into the final, knew what to expect and blocked the powerful attacks from her familiar foe and had some moments of her own but both U63kg standouts failed to score in regulation time.
With the crowd on the edge of their seats, the battle continued into golden score and it was clear that something special would be needed to win the world crown for this year. Both judoka were totally spent as the clock passed seven minutes of golden score and a total of 11 minutes of contest time, and just as the momentum appeared to be turning towards the home judoka, Agbegnenou dug deep and exploded forward with a o-soto-makikomi for a waza-ari.
The crowd showed their appreciation for the tremendous efforts of the two who remained flat on the mat due to exhaustion after the score was awarded. As the tears flowed for Agbegnenou, she was quick to hug her opponent while both were on their knees and the immense level of respect between the two was one of the most powerful moments of the competition so far.
In the first semi-final Tashiro defeated Olympic champion Tina Trstenjak (SLO) for the first time having lost all eight of their previous bouts. Trstenjak was disqualified after just one minute and a half for endangering the left arm of her opponent and was relegated to the bronze medal contest while the Japanese advanced to her second World Championships final.
In the second semi-final Agbegnenou saw off 2018 world bronze medallist Juul Franssen (NED) by a waza-ari score. The French star had to work hard to overcome a spirited Franssen and managed to progress by the smallest score possible to guarantee a medal for France.
The first bronze medal went to former European Games winner Martyna Trajdos (GER) as her would be opponent Trstenjak could not participate having been disqualified in her previous contest with a direct hansoku-make.
The second bronze medal contest was an all-Dutch affair as Franssen pocketed her country's first medal of the competition. Zagreb Grand Prix bronze medallist Sanne Vermeer (NED) lost out by a waza-ari score as Franssen matched her result from last year and solidified her place as the Netherlands' number one in the U63kg category.
like
Related judoka and events
Related judo videos
All videos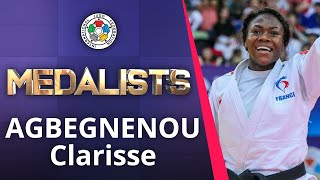 28 Aug 2019
Highlights Clarisse Agbegnenou gold World Championships Tokyo 2019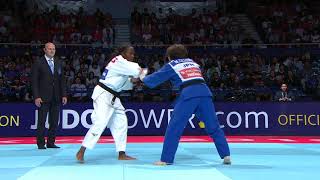 25 Aug 2019
Clarisse AGBEGNENOU (FRA) - Miku TASHIRO (JPN) @ U63 Final - World Championships Tokyo 2019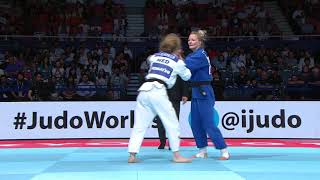 25 Aug 2019
Sanne VERMEER (NED) - Juul FRANSSEN (NED) @ U63 Bronze - World Championships Tokyo 2019
All videos
Elena van de Brink
Netherlands
All JudoInside profiles of…
Judo results, photos, videos from…
More judo info than you can analyse 24/7! Share your results with your judo network. Become an insider!