French Flagbearer Agbegnenou ready for opposition U63kg
20 Jun 2019 16:55
IJF Media Team / International Judo Federation
One thing is for sure the women's U63kg weight class at the European Games will have the best field possible. A world level field with World Champion Clarisse Agbegnenou and Olympic Champion Tina Trstenjak lined up as always with their unstoppable hunger to fight each-other. At the Paris Grand Slam it led to a giant clash decided by the French world champion far in the extra time.
The field is not only about the two rivals. At the previous edition of the European Games Martyna Trajdos of Germany surprised the pack with the gold in 2015. We knew she could do it, but did it with the right timing. There's a pack of women fighting in this class for quite some time like Dutch top prospect Juul Franssen who has good chances in Pool B. Kathrin Unterwurzacher can still get a medal in Minsk but will need to defeat Agbegnenou which is the biggest task of all. Edwige Gwend of Italy is still an outsider and is opposed to birthday girl Laerke Olsen and Sanne Vermeer. Alice Schlesinger maybe not at her best anymore but always in for an upset. Slowly all these women get their replacements waiting for the take-over. Sanne Vermeer (NED), Lucy Renshall (GBR), Andreja Leski (SLO), Magdalena Krssakova (AUT), Maria Centracchio (ITA). So many countries with double positions. The number of countries though is limited but the field reasonably good, certainly the top.
European Games are special
So far this year Martyna Trajdos seems back at her previous level and impressed with gold in Hohhot and bronze in Tbilisi and Baku. Trstenjak is stable with two silver medals in Paris and Baku. Andreja Leski her rival is getting so close this season with a victory in Marrakech and bronze medals in Paris and Düsseldorf that a medal is looming. Leski defeated Trstenjak at the national championships in a real battle. Also Dutch World Junior Champion Sanne Vermeer is in good shape with gold in Tbilisi and bronze in Tel Aviv.
New generation Vermeer
Conclusion that the top is still at world level, but there is a handful of women winning ground on the old generation of which Vermeer seems to have the best development and she is in a realistic pool to make it to the semi final. It's also interesting to see that in the battle for the Olympics in Tokyo two Dutch rivals inspire each-other to reach the max, with a risk to be burned out when it comes to Olympic medals. A big gap will result in a better preparation for the Games. The earlier a decision is made for the Olympic Games, the better the final result.
Just a stepping stone
The European Games are just a stepping stone with a lot of honour, 700 points and forever fame, but the real deal is in Tokyo this year with a world audience, 2000 points and hero status. So we wouldn't be surprised if some of the rookies can move forward in Minsk. No doubt though that Agbegnenou is the clear favourite, so far there's no one left to stop her to defend her title and win her fourth.
like
Related judoka and events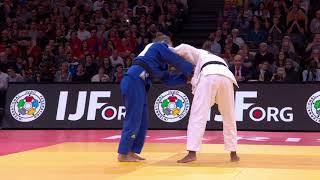 9 Feb 2019
Clarisse AGBEGNENOU (FRA) - Tina TRSTENJAK (SLO) @ U63 Final - Grand Slam Paris 2019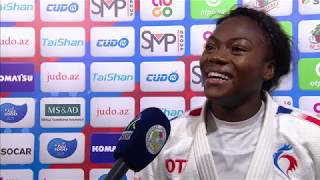 23 Sep 2018
IJF interview Clarisse Agbegnenou World Championships Baku 2018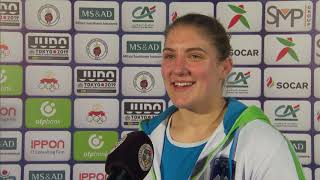 9 Mar 2019
IJF interview Andreja Leski Grand Slam Ekaterinburg 2019
All videos
Lisa Grabner
Austria
All JudoInside profiles of…
Judo results, photos, videos from…
More judo info than you can analyse 24/7! Share your results with your judo network. Become an insider!