Cuban legend Idalys Ortiz adds new title to her honours list
25 Nov 2018 14:25
by Mark Pickering - IJF
ejudo
World Championships silver medallist Idalys Ortiz (CUB) struck Grand Slam gold for the first time to win back-to-back titles on the IJF World Judo Tour. Ortiz, who won the Cancun Grand Prix in October conquered Asian Games winner Sone Akira (JPN) in the final after the disappointing Japanese judoka was disqualified after her third shido.
Ortiz had 11 Grand Slam medals before today (five silver and six bronze) and after losing in the final five times previously, defeated three Japanese judoka on her way to a highly-satisfying gold medal.
In the first semi-final world champion Asahina Sarah (JPN) lost out to arch-rival Sone by a waza-ari score which was the only time the scoreboard was called upon. In the second semi-final ORTIZ surged past three-time Grand Slam winner Inamori Nami (JPN) with ease. The Cuban needed only 60 seconds to beat the home judoka as she opened the scoring with uchi-mata-sukashi for a waza-ari and added a second from a hold down.
The first bronze medal was awarded to Inamori who proved to be too strong for Junior World Championships silver medallist Beatriz Souza (BRA). Inamori held down Brazil's Tokyo 2020 contender with a kami-shiho-gatame and left the mat almost in tears as the occasion and significance of this event for the Japanese team was visible on her face before the heavyweight spotted some friends in the crowd and greeted them with a smile and a wave.
The second bronze medal was won by Asahina defeated world bronze medallist Larisa Ceric (BIH) with her signature sasae-tsurikomi-ashi after 71 seconds. Asahina won her eighth Grand Slam medal but will be unhappy with missing top spot on the podium and especially at home. Ceric meanwhile continues to be there or there about at the major events on the tour and is well worth her position of second place on the IJF World Ranking List.
like
Related judoka and events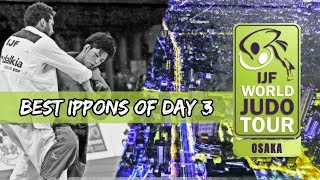 25 Nov 2018
Best ippons in day 3 Grand Slam Osaka 2018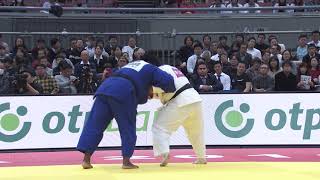 23 Nov 2018
Akira SONE (JPN) - Idalys ORTIZ (CUB) @ O78 Final - Grand Slam Osaka 2018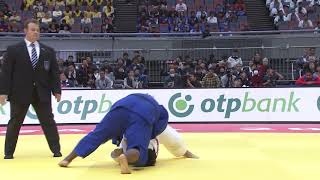 23 Nov 2018
Nami INAMORI (JPN) - Idalys ORTIZ (CUB) @ O78 - Grand Slam Osaka 2018
All videos
Ann-Sophie Stemplin
Germany
All JudoInside profiles of…
Judo results, photos, videos from…
More judo info than you can analyse 24/7! Share your results with your judo network. Become an insider!