Opportunist Gordiienko wins second beautiful second gold for Ukraine
21 Jan 2018 19:05
by Mark Pickering - IJF
IJF Gabriela Sabau / International Judo Federation
For the last final of the Grand prix in Tunis, the Tunisian public was expecting a lot from its local champion, Faicel Jaballah (TUN), a former world championship bronze medallist. But the Tunisian giant was prematurely eliminated by the Japanese Sato Kazuya (JPN) and could not go through the repechages. In final the public watched Oleksandr Gordiienko (UKR) and Mahjoub Javad (IRI) competing for gold.
The first danger came from the Iranian side, as Mahjoub almost caught Gordiienko with a surprising de-ashi-barai but for no score. He then caught him with an immobilisation but the gigantic Ukrainian could escape before ten seconds. Before the last minute, Gordiienko was penalised with the second shido for stepping out, but there was still no score despite the strong attacks from both sides. 32 seconds prior to the end, the Ukrainian launched maybe the last desperate attack which scored a waza-ari on the edge of the competition area. If the final result seems a little against the global physiognomy of the match, the victory is totally normal since Gordiienko was more opportunist and scored at the right moment.
The first bronze medal contest saw 2016 Junior European Champion Ruslan Shakhbazov (RUS) and two-times medallist of the Zagreb Grand Prix, Vladut Simionescu (ROU) for a precious place on the podium. Half way to the end, both athletes had been penalised for passivity with a shido. With 43 seconds left, they both received a second shido and after a false attack Simionescu received the third decisive penalty that gave the victory to the Russian and a first medal in a Grand Prix.
In the second bronze final, the second Russian Tamerlan Bashaev (RUS) was opposed to Jaballah's scorer, the Japanese Sato Kazuya (JPN). Both competitors finished the regular time just with shido to their names as Bashaev was penalised once and Sato twice, but after 19 seconds of golden score, the Japanese was penalised a third time, giving the victory to Bashaev for a first medal at that level.
like
Related judoka and events
Related judo videos
All videos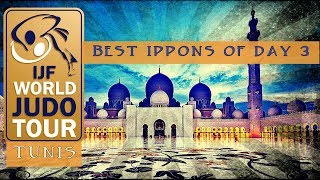 21 Jan 2018
Best ippons in day 3 of Judo Grand Prix Tunis 2018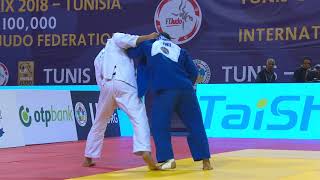 21 Jan 2018
Oleksandr GORDIIENKO (UKR) - Javad MAHJOUB (IRI) @ O100 Final - Grand Prix Tunis 2018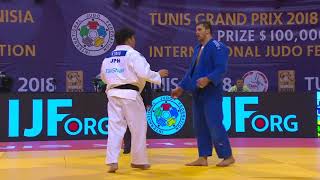 19 Jan 2018
Kazuya SATO (JPN) - Oleksandr GORDIIENKO (UKR) @ O100 - Grand Prix Tunis 2018
All videos
Otari Talakhashvili
Georgia
All JudoInside profiles of…
Judo results, photos, videos from…
More judo info than you can analyse 24/7! Share your results with your judo network. Become an insider!