Or Sasson takes Tashkent gold with Open weight Worlds looming
9 Oct 2017 09:05
by Mark Pickering - IJF
IJF Media Team / International Judo Federation
The Tashkent Grand Prix 2017 closed out on Sunday with the heavyweights as Israel produced a sprint finish to top the medal table. Each of the three days Israel won a gold medal by Temelkova, Muki and Or Sasson in the heavyweight category. How interesting as the Open Weight category is scheduled in November.
Rio 2016 Olympics bronze medallist Or Sasson won Israel's third gold medal of the competition to see them home as the best team in Tashkent. Sasson was competing for the first time on the IJF World Judo Tour since the Olympics having sustained a knee-injury and improved with every contest on Sunday. The 27-year-old who weighed in at 124 kilos, threw Asian Championships bronze medallist Iurii Krakovetskii (KGZ) with a sode-tsurikomi-goshi for a waza-ari with 13 seconds left and that was the pivotal moment of the final.
Sasson said: "I feel great now, I had to overcome an injury after the Olympics and I really missed competing.
"There's a fantastic atmosphere at this competition and I had to work very hard to win gold today. I have many things to improve on. I want to develop my power and my technique to help me to win major championships.
"The result is important for my country and now I will go back and work hard in training before competing at the Abu Dhabi Grand Slam, the World Openweight Championships and hopefully then the World Judo Masters in December."
In the first semi-final Iurii Krakovetskii defeated world number 78 Mukhsin Khisomiddinov (UZB) with a waza-ari from an uchi-mata on the edge of the area after 38 seconds of golden score. In the second semi-final 2016 Tashkent Grand Prix bronze medallist Boltoboy Baltaev (UZB) received a third shido for crushing the grip against Sasson and was disqualified.
The first bronze medal was won by Baltaev who held down Grand Prix debutant Ikhtiyor Khalmuratov (UZB) with a kami-shiho-gatame to win the first of the two all-Uzbekistan clashes for third place. Khalmuratov, 26, launched his IJF World Judo Tour career at the Ekaterinburg Grand Slam last summer, but had to settle for fifth-place at home as Baltaev matched his 2016 result.
The second bronze medal went to former Junior Asian Championships silver medallist Bekmurod Oltiboev (UZB) who threw Khisomiddinov with a classical seoi-nage for the maximum score. Oltiboev, 21, was the youngest and lightest judoka in the category at 109 kilos but was unperturbed and after 90 seconds dismissed his teammate with aplomb.
like
Related judoka and events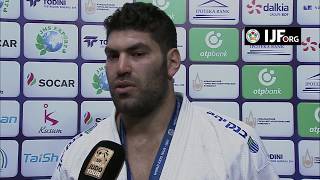 8 Oct 2017
IJF interview Or Sasson Grand Prix Tashkent 2017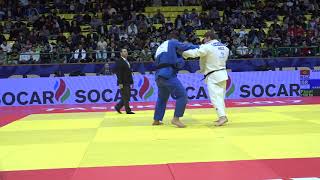 6 Oct 2017
Iurii KRAKOVETSKII (KGZ) - Or SASSON (ISR) @ O100 Final - Grand Prix Tashkent 2017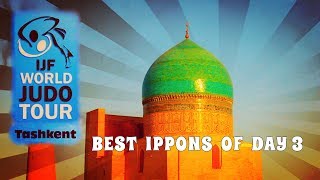 8 Oct 2017
Best ippons in day 3 of Judo Grand Prix Tashkent 2017
All videos
Kazuhiro Ninomiya
Japan
All JudoInside profiles of…
Judo results, photos, videos from…
More judo info than you can analyse 24/7! Share your results with your judo network. Become an insider!