Spirited Ustopiriyon emerges triumphant in record-breaking marathon match
8 Oct 2017 17:05
by Mark Pickering - IJF
IJF Media Team / International Judo Federation
Asian Championships winner Komronshokh Ustopiriyon of Tajikistan won an immense physical duel against former world bronze medallist Dilshod Choriev (UZB) to take gold for Tajikistan. Former Astana Grand Prix winner Ustopiriyon, who has been financially supported to compete in many of his events by the IJF, was locked in an intense gripping battle against the 32-year-old Uzbek Choriev.
The regulation time passed in a blink of an eye as both men were consumed by the aim of not losing the final rather than winning it.
The knowledgeable crowd reacted every time the Uzbek took a strong grip and were right behind their fighter from the opening second until the record-breaking 11th minute, an IJF World Judo Tour record. After 10 minutes and 27 seconds of golden score Choriev received a shido to hand the gold medal to Ustopiriyon. After the longest contest in IJF World Judo Tour history, both judoka were physically spent and had to sit down on the floor after leaving the field of play having spent 18 minutes on the mat including the stoppages.
In the first semi-final Ustopiriyon profited from a lack of concentration from former Paris Grand Slam winner Yakhyo Imamov (UZB) who walked out of the area to receive a third shido for hansoku-make. Imamov has struggled for form recently and this performance epitomised his regression on the IJF World Judo Tour while Ustopiriyon advanced to the second Grand Prix final of his career.
In the second semi-final Choriev dismissed 20-year-old Minsk European Open winner Yahor Varapayeu (BLR) after a mammoth tussle. Both men cancelled each other out for the regulatory four minutes and for the next nine minutes in golden score until Choriev threw Varapayeu with a drop seoi-nage for a crowd-pleasing waza-ari score.
The first bronze medal was won by Varapayeu who scored four times to defeat 22-year-old former Junior Asian Cup winner and Grand Prix newcomer Doston Meyliev (UZB). Varapayeu won the first contest of the final block by scoring a waza-ari with a yoko-otoshi, then a second with a uchi-mata and a third with the same technique. The 20-year-old Belarus judoka followed up with groundwork and pinned the Uzbek judoka for 20 seconds to seal his first Grand Prix medal and to double his country's medal count in Uzbekistan.
The second bronze medal was won by Imamov after Asian Championships silver medallist Islam Bozbayev (KAZ) ducked his head under the last attack from the home judoka to receive his third and final shido with six seconds left on the clock.
like
Related judoka and events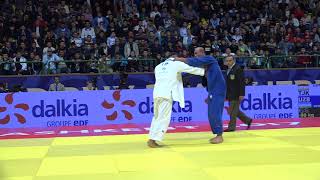 6 Oct 2017
Komronshokh USTOPIRIYON (TJK) - Dilshod CHORIEV (UZB) @ U90 Final - Grand Prix Tashkent 2017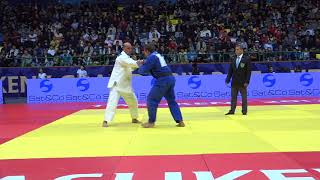 6 Oct 2017
Dilshod CHORIEV (UZB) - Yahor VARAPAYEU (BLR) @ U90 - Grand Prix Tashkent 2017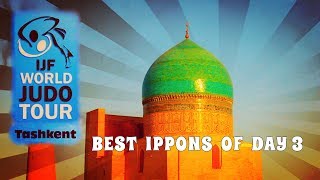 8 Oct 2017
Best ippons in day 3 of Judo Grand Prix Tashkent 2017
All videos
Florian Doppelhammer
Austria
All JudoInside profiles of…
Judo results, photos, videos from…
More judo info than you can analyse 24/7! Share your results with your judo network. Become an insider!