Smiles for Smagulov as the Kazakh has the beating of Uzbek rivals
7 Oct 2017 19:05
by Mark Pickering - IJF
Zhansay Smagulov of Kazkhstan ruled the U73kg category for Uzbekistan's neighbours with a workman like performance. The 25-year-old Asian Championships bronze medallist picked up his second Grand Prix gold medal and first since 2015 by defeating world number 11 Giyosjon Boboev (UZB) in the final.
Smagulov started slowly but opened up in the final minute and threw Boboev with a seoi-otoshi for ippon with 22 seconds left on the clock.
In the first semi-final Boboev beat teenage judoka Martin Hojak (SLO) in an incredible contest. Both judoka launched attacks from the opening exchange which set the tone a frenetic contest which teased, tormented and tantalised the Uzbek supporters. Boboev and Hojak committed to throw after throw, all narrowly avoided giving away a score and so golden score was required. With everything in the balance, the golden score period was all-out action and not only were the spectators deeply invested and thoroughly enjoying the semi-final, finalist Smagulov, who was awaiting the winner in the final, would have been savouring the lengthy period of golden score. Hojak was penalised with a shido for a leg grab after five minutes and 27 seconds of golden score to send Boboev into the final.
In the second semi-final Smagulov threw 2016 Tashkent Grand Prix winner Mirzokhid Farmonov (UZB) with a tai-otoshi for a waza-ari score which was the only score of the four minute contest.
The first bronze medal was won by Azeri youngster Telman Valiyev (AZE) in a fantastic contest against Farmonov which produced four scores. Valiyev, 22, was unfazed by the atmosphere as he fought for his first Grand Prix medal and against one of Uzbekistan's biggest medal hopes. The Azeri built up an unassailable lead to the shock of Farmonov and the crowd with three waza-ari scores without reply. A sumi-gaeshi, an osoto-gari and then a te-waza movement each yielded scores before Farmonov pulled one back in the closing seconds but it was too little too late.
The second bronze medal was won by world number 94 and former Junior Asian Cup winner Khikmatillokh Turaev (UZB) who beat Hojak. Turaev, 22, clinched his first IJF honours in a dream scenario as he graced the podium in his homeland on the occasion of the Central Asia's leg of the IJF World Judo Tour. A sode-tsurikomi-goshi waza-ari gave Turaev the lead and he added another before the end to secure bronze. Hojak, 19, who was involved in some of the best contests of the day, will be one of the favourites in his next competition as the teenager will travel to Croatia later this month for the Junior World Championships in Zagreb.
like
Related judoka and events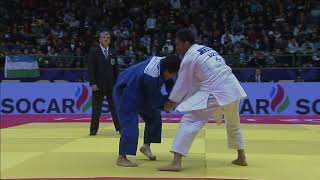 6 Oct 2017
Giyosjon BOBOEV (UZB) - Zhansay SMAGULOV (KAZ) @ U73 Final - Grand Prix Tashkent 2017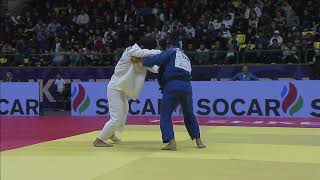 6 Oct 2017
Zhansay SMAGULOV (KAZ) @ Grand Prix Tashkent 2017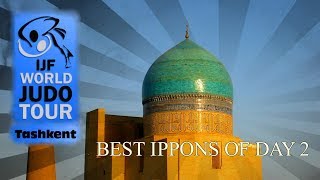 7 Oct 2017
Best ippons in day 2 of Judo Grand Prix Tashkent 2017
All videos
Denis Kozlovs
Latvia
All JudoInside profiles of…
Judo results, photos, videos from…
More judo info than you can analyse 24/7! Share your results with your judo network. Become an insider!