Maria Portela emotional after long awaited gold medal in Tbilisi
1 Apr 2017 19:15
by Mark Pickering - IJF
IJF Media Team / International Judo Federation
With any doubt Elvismar Rodriguez fighting with an IJF backpatch but originally from Venezuela and Maria Portela of Brazil were the stronger athletes of the category and they proved it by entering into the final. It turned out to be a great warmup for the continental championships later in April.
Supported by the IJF, Rodriguez who currently trains in Hungary, was the first in action pushing Portela to be penalised for passivity. Changing direction regularly, from right to left, and using small hashi (leg) techniques to destabilise her opponent, Rodriguez seemed to dominate Portela who remained dangerous on counterattacks. Second by second, the regular time was approaching to the end, pushing both athletes in golden score, where everything can happen.
Rodriguez was also penalised with a shido, which could play an important role in the golden score to come. And that shido indeed played a central role. After more than three minutes and a half of golden score, the score was still one shido each, when Rodriguez got penalised a second time for blocking her opponent. If the penalty didn't play a central role during regular time, they were in golden score. Portela could enjoy a tight win, but a good win.
Portela won her last IJF Tour event in 2012, five years ago in Abu Dhabi when she won the Grand Prix.
Gercsak Szabina (HUN) was the first to score against Valentina Maltseva (RUS) during the first bronze medal match of the category. The 20-year-old Hungarian added one more waza-ari score with a maki-komi technique, followed by an immobilisation for an other waza-ari, ending the bout with that three waza-ari advantage.
Natascha Ausma (NED) and Anna Bernholm (SWE) faced off in the second bronze medal match to complete the podium. In a very close fight, Ausma could finally take the advantage as Bernholm was penalised a third time for hansokumake. The Swedish should have been warned already as she was awarded with the second shido for a attempt to block her opponent.
like
Related judoka and events
Related judo videos
All videos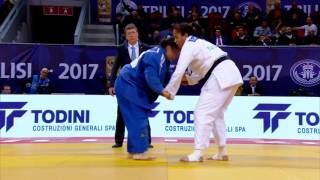 31 Mar 2017
Elvismar RODRIGUEZ (IJF) - Maria PORTELA (BRA) @ U70 Final - Grand Prix Tbilisi 2017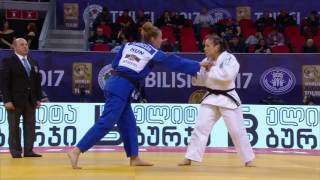 31 Mar 2017
Maria PORTELA (BRA) - Szabina GERCSÁK (HUN) @ U70 - Grand Prix Tbilisi 2017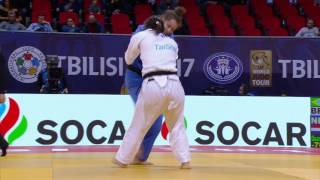 31 Mar 2017
Maria PORTELA (BRA) - Natascha AUSMA (NED) @ U70 - Grand Prix Tbilisi 2017
All videos
Fabrizio Esposito
Italy
All JudoInside profiles of…
Judo results, photos, videos from…
More judo info than you can analyse 24/7! Share your results with your judo network. Become an insider!