Irina Zabludina armbars Rafaela Silva and claims first IJF gold since 2014
31 Mar 2017 19:10
by Mark Pickering - IJF
IJF Media Team / International Judo Federation
The final of the day opposed the silver medallist of the 2013 World Championships, Erika Miranda of Brazil who had a tough match against Belgian Charline Van Snick, the 2012 Olympic Bronze medallist, even though Van Snick achieved her Olympic dream in the lower category as she just moved up to the upper weight division.
After a disappointing 5th place for her at the Paris Grand Slam, earlier this year, the current Olympic champion from Brazil, Rafaela Silva, entered again a final in her impressive career. In the final she was opposed to Irina Zabludina (RUS), who so far didn't succeed in reaching a podium in 2017.
The Brazilian defeated Natalia Golomidova (RUS) to reach the final while Irina Zabludina stopped Margriet Bergstra (NED) to meet with her illustrious contender.
After one minute and a half, Silva launched her trademark flying juji-gatame (armlock) but could not conclude the eye-catching technique. Looking confident and strong, the Olympic champion apppeared to be untouchable but it was the Russian who finally took the opportunity to conclude on the floor with an impressive piece of groundwork: juji-gatame for ippon.
The first bronze medal contest opposed Khulan Tseregbaatar (MGL) and Margriet Bergstra (NED). After two minutes of hard combat for the grip, the Dutch scored a waza-ari with an aerial uchi-mata that she could keep alive until the end of the match to step on the podium and win a very first medal on the occasion of a World Judo Tour event.
For the second place on the podium, Ivelina Ilieva (BUL) was opposed to Natalia Golomidova (RUS). Golomidova scored the first waza-ari with an opportunist ko-soto-gake technique. Then it was the turn of Ilieva to score a waza-ari as she invited her opponent for a little 'dance' that ended with Golomidova rolling on her back, but not flat enough for ippon. It was time to enter the golden score. It was ultimately Golomidova who scored with koshi-guruma for waza-ari.
like
Related judoka and events
Related judo videos
All videos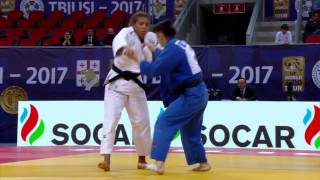 31 Mar 2017
Rafaela SILVA (BRA) - Irina ZABLUDINA (RUS) @ U57 Final - Grand Prix Tbilisi 2017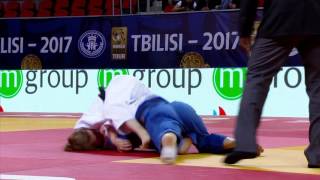 31 Mar 2017
Margriet BERGSTRA (NED) - Irina ZABLUDINA (RUS) @ U57 - Grand Prix Tbilisi 2017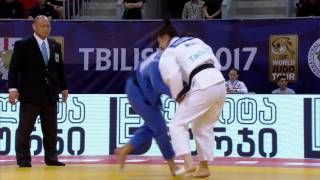 31 Mar 2017
Irina ZABLUDINA (RUS) - Mariam JANASHVILI (GEO) @ U57 - Grand Prix Tbilisi 2017
All videos
Pieter Scheelen
Belgium
All JudoInside profiles of…
Judo results, photos, videos from…
More judo info than you can analyse 24/7! Share your results with your judo network. Become an insider!