Mami Umeki justifies red World Champion backpatch after barren spell
26 Feb 2017 17:30
by Mark Pickering - IJF
Klaus Müller / Watch: https://km-pics.de/
World champion Umeki Mami of Japan won her first international gold medal since claiming world gold in 2015 as her red backpatch reserved only for world winners finally looks fitting for the young judoka. French former Baku Grand Slam winner Madeleine Malonga, a two-time Grand Prix winner, was unable to capture a third title despite leading with a waza-ari from an uchi-mata. Umeki, 22, defeated Malonga, 23, on the ground as she held down the Frenchwoman with a yoko-shiho-gatame hold to win her first Grand Prix gold medal.
In the first semi-final world number five Natalie Powell (GBR) was beaten by Umeki. Welsh judoka Powell attacked with ouchi-gari but was countered by the Japanese for a waza-ari score and then the former was trapped in osaekomi and elected to tap out after three seconds. In the second semi-final Budapest Grand Prix bronze medallist Karen Stevenson (NED) fell to Malonga who used her long frame to take down her Dutch opponent with an ouchi-gari for ippon.
The first bronze medal was won by Tyumen Grand Slam silver medallist Klara Apotekar (SLO) who defeated Stevenson to secure a spot on a Grand Prix medal podium for the first time. A waza-ari for the former was the difference after four minutes as Stevenson is still finding her feet at this level and will be relatively content with a fifth-place finish.
The second bronze medal contest was won by Tokyo Grand Slam bronze medallist Takayama Rika (JPN) who toppled. Olympian Powell was thrown for a waza-ari score and the Japanese judoka moved into the osaekomi while also applying the ude-garami and the Commonwealth Games winner was powerless to escape on the ground.
like
Related judoka and events
Related judo videos
All videos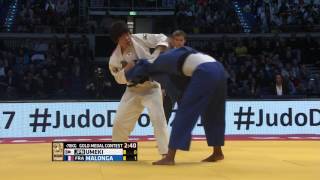 24 Feb 2017
Mami UMEKI (JPN) - Madeleine MALONGA (FRA) @ U78 Final - Grand Prix Düsseldorf 2017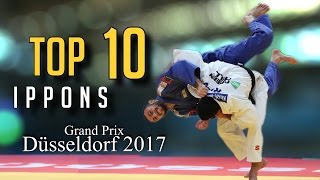 26 Feb 2017
TOP 10 IPPONS Grand Prix Düsseldorf 2017 by JudoHeroes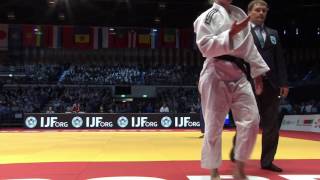 24 Feb 2017
Karen STEVENSON (NED) - Madeleine MALONGA (FRA) @ U78 - Grand Prix Düsseldorf 2017
All videos
Related judo news
14 Jan 2021 09:35
Madeleine Malonga can't stop smiling
10 Jan 2021 13:00
184 Women battling at IJF Judo Masters in Doha
21 Nov 2020 17:50
Israel, France and Russia celebrate gold medals
9 Feb 2020 18:10
Madeleine Malonga secures Olympic selection
31 Dec 2019 11:05
Sagi Muki concludes successful 2019 as top earner
Amanda Lima
Brazil
All JudoInside profiles of…
Judo results, photos, videos from…
More judo info than you can analyse 24/7! Share your results with your judo network. Become an insider!