Tina Trstenjak grabs calculated gold medal and follows up Zolnir
9 Aug 2016 23:35
IJF Media Team / International Judo Federation
It wasn't a surprise that both Tina Trstenjak as Clarisse Agbegnenou before the undisputed favourites, but it's a quality that both reached the final at these competitive Olympics. This category U63kg is one of the most rivalled division and knows a broad list of challengers of these two. It was Tina Trstenjak who stayed cool as ever. She is as cool as Ono, as efficient as Riner and as laid-back as 2012 Olympic Champion Urska Zolnir. Trstenjak took over her legacy for a bright future of Slovenian judo. It was the only category of the 14 where none of the judoka had won an Olympic medal before.
Another European gold medal, where the Asians were expected to shine. Europe has now won five gold medals, Pan America two and Asian follows with just one Olympic title.
Today Trstenjak dominated in her way and so she did in the final, cool, calculated and smart like a fox where Agbegnenou left the space to Trstenjak to break her defense on the ground for a rock-solid oseikomi. Agbegnenou was close to gold qualifying for the final via victories against Katipoglu (TUR), Van Emden and Tashiru (JPN).
Trstenjak defeated Edwige Gwend (ITA), Yang Junxia of China and Mariana Silva in the semi final, where perhaps Gerbi or Trajdos were expected, but the Brazilian was loose today. In the end she finished fifth but with all the cheers of the Brazilians who hadn't expected her in the semi final. Anicka van Emden of the Netherlands won the bronze after some solid results. She won bronze at the World Championships 2013 in Rio, an image that seems to have a direct relation with this weeks results. The second bronze medal was captured by Yarden Gerbi with an historic bronze medal for Israel, the fourth in history and second for a woman after Yael Arad in 1992.
like
Related judoka and events
Related judo videos
All videos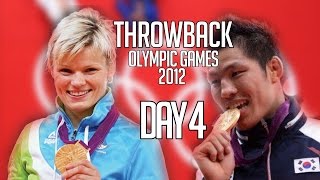 31 Jul 2012
Throwback day 4 Olympic Games London
All videos
Ioannis Panagiotopoulos
Greece
All JudoInside profiles of…
Judo results, photos, videos from…
More judo info than you can analyse 24/7! Share your results with your judo network. Become an insider!