Russia and Netherlands rule in Junior division in Kaunas
9 May 2016 16:30
Inal Tasoev of Russia won his second European Cup this season. In Kaunas in Lithuania, the Russian junior defeated Fedor Panko of the Ukraine, the young European U23 champion. It says a lot about Tasoev and the Russian team that took seven gold medals of 16 available. With The Netherlands Russia is the most promising team this season winning 13 in total, these 7 mattered this weekend in Kaunas. The Podium U44kg for women was fully Russian.
Dutch super talent and World Cadet Champion Simeon Catharina won his second title as well U100kg. He prevented the 8th Russian title. The Dutch stood on the highest podium three times with Natascha Ausma capturing gold this time after too much silverware lately U70kg and Ilona Lucassen grabbed gold U78kg. The Dutch team won 11 medals, Russia even 11 bronze, 5 silver and 7 gold.
Switzerland is an upcoming nation in the juniors with two titles for Nils Stump U66kg and Carina Hildbrand women U63, a competitive class. The Swiss didn't win any title in a year, but Stump could prolong his title.
Germany won gold by Maximilian Heyder U55kg, Artem Lesyuk won gold U60 for Ukraine, Croatian talent Dominik Druzeta gold U81kg and Belarus are still progressing in the juniors with their strong men, Yahor Varapayeu took gold U90kg. This time the Russian women had the glory in Kaunas with 5 gold medals.
JudoInside brings you the details towards the European Championships in Malaga in September. Watch the best countries this season
like
Related judoka and events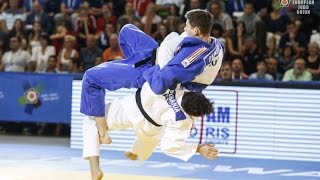 19 Sep 2015
EJU Highlights Day 2 European U21 Championships 2015 Oberwart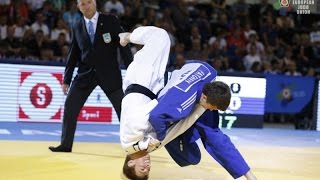 18 Sep 2015
EJU Highlights Day 1 European U21 Championships 2015 Oberwart
All videos
Maria Paredes
Spain
All JudoInside profiles of…
Judo results, photos, videos from…
More judo info than you can analyse 24/7! Share your results with your judo network. Become an insider!