French lightweight Walide Khyar grabs sensational European title
21 Apr 2016 18:15
French 20-year old Walide Khyar was the big sensation at the first day of the European Championships. He won the European title in the men's U60kg. France hadn't had a European Champion in this class since Sofiane Milous won the title in 2010. Khyar is the fifth judoka of France to win the title, Philip Pradayrol won two titles in 1990 and 1991.
The European Junior Champion of 2015 defeated Orkhan Safarov of Azerbaijan in the final. The category U60kg was sensational anyway today with young Italian Elios Manzi (20) who won the bronze medal after some amazing results. Khyar was in trouble with a wazari down against former World number one Orujov. But in the last minute it was Khyar who struck with a great pick up. He tried it a few times, but the last one was risky and amazing and a direct ippon. Khyar had beaten Bekir Ozlu in the semi final and Georgian favourite Amiran Papinashvili in the quarter final. Papinashvili got spanked by the young Italian Manzi for bronze. The youngsters have taken over except for 32-year old Hovhannes Davtyan (ARM) who could stand Bekir Ozlu of Turkey in the match for bronze.
The French winner said: "I did not just come here for any medal; it was gold I wanted. I wanted to win and I truly believed I could win." His hardest fight was against Turkish Bekir Ozlu who is well in shape. "He really made me work hard today. I had fought him in training in Paris where he kind of won, but in an official contest. But today I was the winner. In the final, I fought against Safarov again. I defeated him in Qingdao during the Grand Prix but nevertheless I was careful and mindful that he was the number one seed here."
This Olympic cycle European Champions
2016 Walide Khyar (FRA)
2015 Beslan Mudranov (RUS)
2014 Beslan Mudranov (RUS)
2013 Amiran Papinashvili (GEO)
2012 Beslan Mudranov (RUS)
Short Profile:
French judoka Walide Khyar won both the Junior and senior European title now. He took bronze at the Grand Slam in Paris in 2016. Khyar won the European Junior title in 2015 in Oberwart. He won bronze at the 2015 World Junior Championships in Abu Dhabi. Khyar won the EYOF in Trabzon in 2011. He won bronze in individual and Team Europeans in 2014.
like
Related judoka and events
Related judo videos
All videos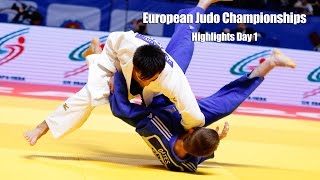 21 Apr 2016
EJU Highlights Day 1 ECH Kazan 2016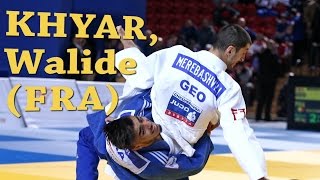 All videos
Marlin Viveros
Ecuador
All JudoInside profiles of…
Judo results, photos, videos from…
More judo info than you can analyse 24/7! Share your results with your judo network. Become an insider!