Tough Japanese Tokyo final U70kg won by Laura Vargas Koch
5 Dec 2015 08:50
by Mark Pickering - IJF
IJF Media Team / International Judo Federation
Germany's Laura Vargas Koch was counting on a beautiful series of performances and a top seeded position to perform in Tokyo. But the German lost quickly in the first round against Ike Erina (JPN) by immobilization, while the Japanese, before the competition, only had to her credit a seventh place at a Grand Prix. The world number two eliminated, the road to the final opened to another Japanese Grand Slam winner (Tokyo in 2013), Arai Chizuru, who was opposed to her compatriot Ono Yoko.
During the first four minutes of regular time, nothing seemed to be able to differentiate the two finalists who were each penalized with three shido. It was time for the golden score. Maintaining an incredible rhythm, attacks coming from both sides but for no score, the two competitors were trying everything possible to score but it is a last false attack of Ono Yoko, which finally delivered Arai, who after more than 7 minutes and 30 seconds won the gold.
Kelita Zupancic (CAN), Sally Conway (GBR) and Fanny Estelle Posvite (FRA) prematurely eliminated from the competition, there was not much room for the favorites of the competition to step on the podium. Two survivors still clambered to the bronze Final: Linda Bolder (ISR) and Assmaa Niang (MAR).
Thus the first bronze medal fight opposed the 2013 African Champion Assmaa Niang (MAR) and Maria Portela (BRA). After a big mistake, totally missing her control while applying a sutemi-waza, NIANG was caught on immobilisation by Portela, who could let her joy explode when she realized that she was bronze medalist in Tokyo.
For the second bronze medal, the match took place between the Israeli Linda Bolder and the Japanese Ike Erina. Only one shido given to Ike Erina was enough to give the chance to Bolder to step on the podium.
like
Related judoka and events
Related judo videos
All videos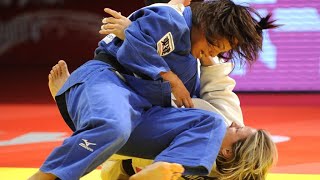 5 Dec 2014
IJF Magazine GS Tokyo 2014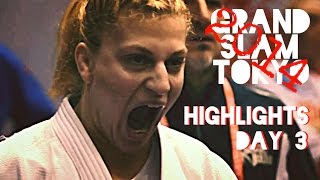 7 Dec 2014
Highlights Day 3 JudoHeroes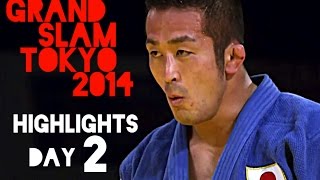 6 Dec 2014
Highlights Day 2 JudoHeroes GS Tokyo 2014
All videos
Danijel Bradaric
Croatia
All JudoInside profiles of…
Judo results, photos, videos from…
More judo info than you can analyse 24/7! Share your results with your judo network. Become an insider!